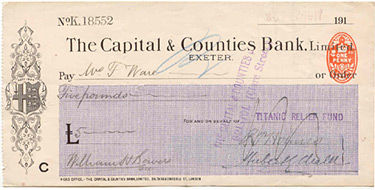 Check from Titanic Relief Fund

This relief fund check was made out to Florence Ware. Florence, age 31, traveled aboard the Titanic in Second Class with her husband, John Ware. Florence survived the Titanic tragedy on lifeboat #10. Her husband did not survive. He was 35 years old. The back of the check is signed by Mrs. Ware with the address 13 Salthrop Road, Morley Square, Bishopston, Bristol.

View additional checks from the Titanic Relief Fund:
View Relief Fund Check to Mrs. Lobb
View Relief Fund Check to Mrs. Giles

This item is available for viewing at Audio Video Showroom in Santa Rosa, California.