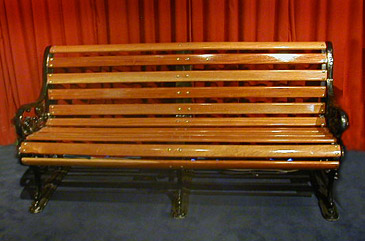 Deck Bench from The Titanic

This bench, cast of metal and recovered from the bottom of the sea, was one of the few used in James Cameron's 1997 Academy award winning film, "Titanic". This was used as a template to reproduce additional deck benches used in the movie. The original benches were 8 feet wide while the ones made for the film were 6 feet wide. The benches can be clearly seen in the scene where Rose is about to jump off the stern.

In addition to the original full-size bench, Audio Video Showroom also has a miniature bench that was used on screen in the movie.

View miniature deck chair, front view.
View miniature deck chair, side view.

This bench is currently on display at Audio Video Showroom in Santa Rosa, California.