Tony Probst's love of the ocean started at a very young age. Tony was six years old when he started a round the world trip with his father, mother, sister Andrea, age 5, and brother Andrew, age 4. Their father and mother moved to Cornwall, England from Forfar, Scotland. They built a 47' 4" trimaran and named it Lorelei III. The Lorelei was built for 12 people, so life for a family of 5 was very comfortable.





They left Padstow, England in 1967 and sailed to Gibraltar, where they spent about 1 year sailing the Mediterranean sea, and the Canary Islands. The family then crossed the Atlantic and spent over 3 years sailing to almost every Caribbean island, the north coast of South America, then on to Panama. The Pacific Ocean came next. They spent the next 5 years getting to know the South Pacific and ended up in Australia in 1976. The Lorelei III wanted to sail around the north of Australia, but was prevented by doing so due to a nasty war going on at the time in Timor.





The Probst family sat around the dinner table one night in Australia to decide what to do next. The decision was made to visit Canada. This part of the voyage took them to New Zealand, then back up through the Pacific islands to Hawaii. Three years after leaving Australia they arrived at Victoria harbor, Vancouver island. After spending a few months on the island, they visited their first big city in many years: Vancouver, British Columbia.

After a couple of months in Vancouver it was decided to visit the USA for the first time. Seattle, Washington was the first port of call in the US. As winter approached it was decided to high tail it back to the Tropics. In the fall of 1979 they left Port Townsend, Washington for what was to be their longest time at sea: 53 days to Puntarenas, Costa Rica. Tony speaks often of this trip as one of the most memorable time in his life. He did not know it at the time but this was his last trip on the Lorelei.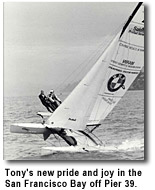 In Costa Rica, he met the love of his life, Ingrid. She was sailing through the Pacific with her family. When she returned to her home town San Rafael, California, Ingrid asked Tony to come and visit. He did, and never left.

Tony and Ingrid now reside in Novato, California, and have three boys. Their family business is Audio Video Showroom, in Santa Rosa, California. The Company installs movie theatres in homes and high end audio equipment.

This wonderful Titanic collection is shown free to the public in their store. I have heard that Tony loves to give private tours when he has time, and tell stories of Titanic and his trip on Lorelei III. The most asked question of Tony is "what was your favorite place"? The answer: Suvarov Atoll, in the Cook Islands. And for those who know, yes he did meet Tom Neale. For the rest of the story there may be a book coming.

In the fall of 2002 Tony and Ingrid will be moving the business and Titanic collection to a much larger facility at 2700 Santa Rosa Avenue, Santa Rosa. Come by and hear the stories.