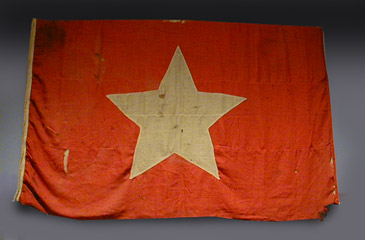 White Star Line Flag

This flag was believed to have been recovered from the wreck of the White Star Line ship, The SS Atlantic. This flag was also said to have flown over the White Star Line offices in Halifax, Nova Scotia. This may be the very the oldest White Star Line flag to exist.

The SS Atlantic was one of the first "floating palaces", at 420 feet long, with a marble floor and 21 pianos on board. She ran aground at full speed around 3 o'clock in the morning of April 1, 1873 in total darkness off Meagher Island near Halifax. She carried 931 passengers; 560 lost their lives that night, 371 were saved. This was one of the largest maritime disasters of the time.

Historian and world famous artist, Ken Marschall, took this flag down to visit her sister ship, The Brittanic, a few years ago. This flag was also pictured and documented in "Titanic: Touchstones of a Tragedy" by author and historian, Steve Santini.

This item is available for viewing at Audio Video Showroom in Santa Rosa, California.