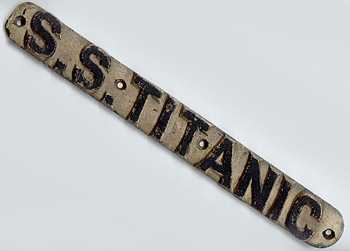 SS Titanic Brass Nameplate

A lifeboat nameplate removed from lifeboat #2. This came from the collection of James W. Barker who was able to retrieve this nameplate, a drinking cup and two oarlocks from lifeboat #2.

Lifeboat #2 was launched at 1:45 am April 15th. It was the nineth lifeboat launched and the first to be picked up by the Carpathia at 4:10 am. There were a total of 18 people on the boat: 14 passengers (only one was male) and four crew.

The lifeboat was under the command of Fourth Officer Joseph Grove Boxall, age 28 from Hull, England. The other crew were Able Bodied Seaman Frank Osman, age 28 from Gosport, Hampshire, England; Assistant Cook John Ellis Bertram, age 30 from Southhamton, England; and Saloon Steward James Johnson.

First Class passengers:

Miss Elisabeth Allen, age 29, St. Louis, MO
Mrs. Edward Appleton (Charlotte), age 58, Bayside, Queens, NY
Mrs. Robert Cornell (Malvina), age 55, New York, NY
Mrs. Walter Douglas (Mahala), age 48, Deephaven, MN
Miss Georgette Madill, age 15, moving from Ireland to New York, NY
Mrs. Edward Robert (Elisabeth), age 43, St. Louis, MO
First class servants:

Miss Emilie Kreuchen, age 30, Oldisleben, Germany
Miss Berte LeRoy, age 28, Compiegne, France
Third Class passengers:

Mrs. William Coutts (Winnie), age 36, moving from England to Brooklyn, NY
Master William Coutts, age 9
Master Neville Coutts, age 3
Mr. Anton Kink, age 29, moving from Zurich, Switzerland to Milwaukee, WI*
Mrs. Louise Kink, age 26
Miss Louise Kink, age 4
*Mr. Kink lost his brother, Mr. Vincenz Kink, age 27 and his sister, Miss Maria Kink, age 22.

View photograph of nameplate on S.S. Titanic lifeboat.

This item is available for viewing at Audio Video Showroom in Santa Rosa, California.