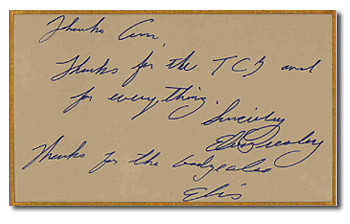 Note Written and Signed (Twice) by Elvis Presley

This note is signed twice by Elvis Presley. It is addressed to his jeweler thanking her for a badge she created for Elvis. The text reads:
Thanks Ann,

Thanks for the TCB and for everything.
Sincerely
Elvis Presley

Thanks for the badge also.
Elvis

Legend has it that Elvis wanted to be a policeman and he liked his badges.

This item is available for view at Audio Video Showroom in Santa Rosa, California.